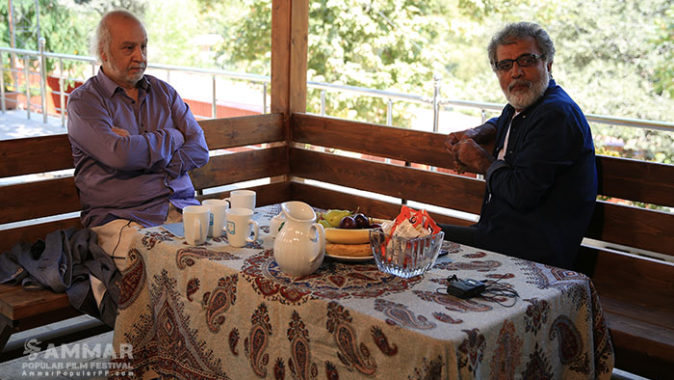 Behrouz Afkhami Held a Televised Q&A Meeting with Miguel Littin
TEHRAN (AIPFF) - Behrouz Afkhami held a televised Q&A meeting with famous Chilean film director and special guest of the International Section of Ammar Popular Film Festival (APFF), Miguel Littin.
TEHRAN (AIPFF) – Behrouz Afkhami held a televised Q&A meeting with famous Chilean film director and special guest of the International Section of Ammar Popular Film Festival (APFF), Miguel Littin.
Saying that he would try to work with the existing facilities and make films, Littin said, "What matters is that we will be able to present our message to the audience; any film has its own needs and cost of any film relates to its nature; I have produced both cheap and costly films!"
The film "Long Live President" that I recently made had cost about four million dollars because it was filmed in such countries as Cuba, France and Mexico. Of course, it is a mini-TV series and I have made its feature copy as well. So, it is economical.
Littin added, "Almost always I have believed that films should be finished speedily and in a cost-effective manner. Of course, in all cases. We produced a film in Nicaragua at less than $100,000. My students at the cinema school played for me. We chose a location with a fully clear-cut plan. For example, all lived in a cell-like place along with each other. We were in full solidarity and friends. However, in the film "President" it was totally reverse the case and we had to pay high cost.
Noting that American cinema is a different industry, the Chilean filmmaker said, "However, the developing states are in a totally different condition. Due to the same reason, you should adapt yourself with the place the film is made. For example, had I to make a film as an Iranian, I would have tried to well identify my country and its people and coordinate myself with the life of the public and then make a film.
Littin added, "Of course, our film is also sold in the US and Europe and yielded a profit. For example, the same film selected for Oscar is seen around the world. If a film is not economically profitable, it is not a film at all because cinema alongside arts is an industry as well. Profitability is the key to a film's survival.
He added, "I always entrust the broadcasting and screening jobs to its own expert. I mean those whose profession and expertise is presenting and finding a finance market for the film.  I consult with them for global broadcasting of my films and I trust them."
Commenting on Arabic films, the Chilean film director said, "I always accompanied with those competent in the Arabic language and I myself listened to Arabic voices to be competent to its melody and tone. For instance, I have learnt the word "silence". I made two films in Arabic: One was a fiction movie and the other is a documentary. To make all those, I toured entire part of Palestine. Israelis annoyed me too much. Sometimes they came with machine guns and pointed them to me, asking, "What do you do?"
I said, "I make films and the cast supported me. Such a behavior hesitated them. At any rate, charisma is very important for a film director."
Referring to risks of the films, he said, "Once, a tank shelled us near the Gaza strip and when I opened my eyes everything was bloody. There is a dastardly war in Palestine and nothing is the least respected. Neither university, nor women and others… Palestine fights with special bravery. Even women are in campaign.
Asked "When you wish to get old and retire?", he said, "I neither wish to retire nor like to get old. I love the camera that walks like man; this way, camera breathes and is not like an empty picture. Feeling and spirit run within it. The image is live; it laughs, cries and breathes. So, I always prefer moving camera because life is moving and my eye is so as well."
On presence in festivals, he said, "I will participant in festivals with my films. However, today public feedback is more important for me than the festivals. I am more curious to see what the feeling of ordinary people is when seeing my film rather than the specialized people. At this age, I have got the feeling that more than festivals' judgments on me, the feeling of people in streets and alleys is important. If I make a film without audience, the film will be worthy for laboratory or cemetery. A person failing to build links with people is at the end stage and is getting to die unless he puts a film on screen at the festival.
The Chilean film director referred to Iranian films "Where is the Friend's House" and "Heavenly Children" he had already seen or remembers, and said the last Iranian films he had seen was "Ch" which was technically at a superior position and narrates its story well.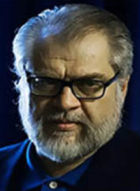 Nader Talebzadeh:
Ammar Popular Film festival is Founded and Funded by People
Ammar film festival is popular. But why is that? There are several reasons to elucidate it and figure out that Ammar festival is founded and funded by people.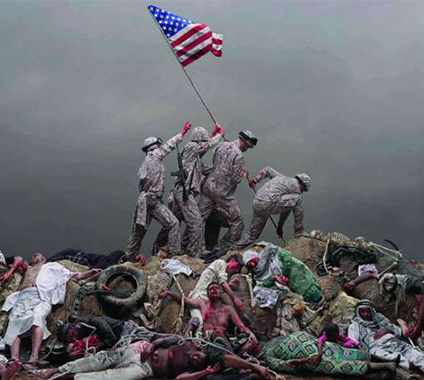 COUP D'ETAT